St Thomas Aquinas students' artworks shine in CEDoW Christmas Story Art Exhibition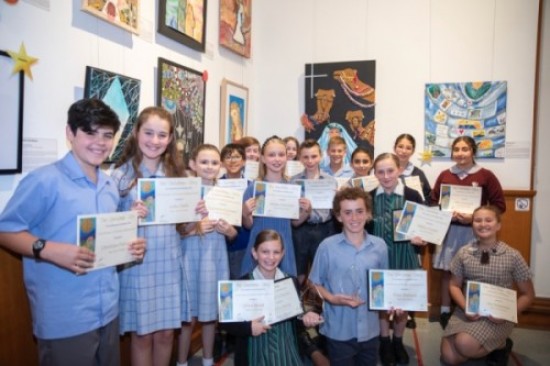 St Thomas Aquinas students have joined over a thousand Years 5 and 6 children across the Diocese of Wollongong, who began last term with blank canvases and sheets of paper.
Now, some of our talented students have made it to the top 56 students in the diocese who've had their artworks selected for this year's CEDoW Christmas Story Art Exhibition at the Wollongong Art Gallery – inspiring us with beautiful imagery and artistry, rich meaning and creative storytelling to celebrate the Christmas Story.
The Stage 3 Visual Arts competition is an initiative of the Catholic education offices in Wollongong and Sydney, designed to feature the children's spiritual understanding and artistic abilities in illustrating the story of the birth of Christ.
In an impressive and diverse range of artworks that showcase both incredible artistic talent in our schools and deep creative thought and empathy among our students, this year's Christmas Story Art Competition and Exhibition has produced a wonderful celebration of art as an expression of our Catholic faith and experiences of God in our world.
Our Years 5 and 6 children have – with the guidance of their teachers – spent the best part of a term breaking open the Scriptures and engaging in a process of discerning and reflection to explore the many layers of meaning in the Christmas Story. They've then demonstrated their own interpretation of the story through a range of art mediums and techniques, each producing an individual piece of art for the competition.
Congratulations to Year 6 student, Emma Colbourn, whose beautiful artwork [pictured below] were selected for display at the CEDoW Christmas Story Art Exhibition at the Wollongong Art Gallery.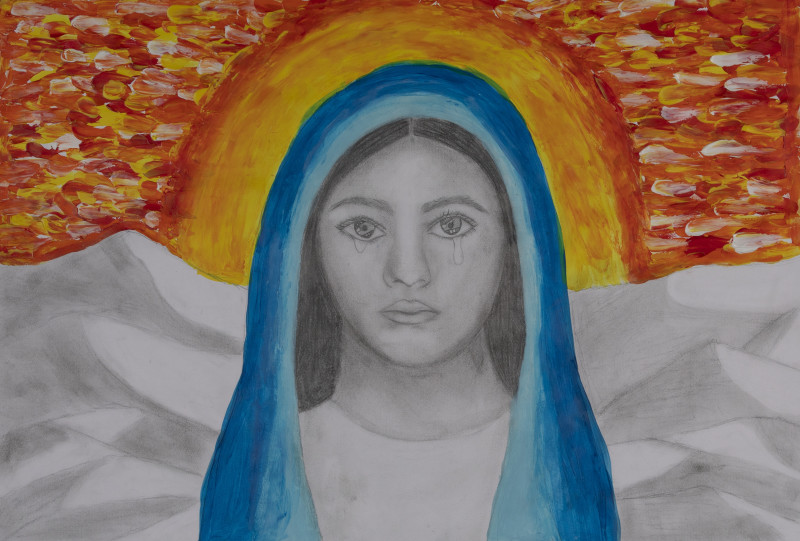 These students, along with their very proud parents and family members, and staff from our diocese's primary schools, joined representatives from Catholic Education Diocese of Wollongong (CEDoW), CatholicCare and the Office of the Bishop at the Wollongong Art Gallery – recognised as one of the most innovative regional art museums in Australia – to view the inspiring array of artworks and hear the announcement of the competition's major award winners and finalists.
CEDoW Head of Catholic Life, Education and Mission Services, Ken Bryant, opened the exhibition's awards evening, remarking on the outstanding aesthetic quality, imagination and meaning behind all the chosen artworks – exemplary of Stage 3 reflective writing and artistic skills.
"As you wander through this gallery, you cannot help but be inspired and enthralled, both by the quality of the work on display and by the wisdom and depth of each child's profound reflections. How fitting that such expressions of creativity find their home and inspiration in the Christmas Story," Ken Bryant said.
"This event aims to nourish the spirit of creativity in our budding artists, and judging by the evidence seen here this evening, these aims have not only been achieved, but exceeded. I sincerely congratulate every student who has entered, and importantly, thank our schools for the diversity of opportunities they provide to nurture the creative flair and talents of their students."
Each of the 56 young artists selected for the exhibition received a Certificate of Achievement – a sign of gratitude from CEDoW for the students' dedication and creativity.
CEDoW CLEM Education Officer and organiser of this year's competition, Cath Hailstone, congratulated the students on their talents and many hours of hard work.
"The quality of our students' artworks and descriptions have been outstanding this year. The students have demonstrated a wonderful interpretation of the Scriptures. Thank you so much students for sharing your gifts with us, and to all of our schools for your support of this competition," she said.
INTERACTIVE WITH AUDIO: VIEW OUR VIRTUAL TOUR OF THIS YEAR'S CHRISTMAS STORY ART EXHIBITION
Explore our Christmas Story Art Exhibition – view all top 56 students' artworks – including our students' pieces! – as displayed at the Wollongong Art Gallery. Zoom in to see each artwork in closer detail and hear from each student as they describe their artwork to you. View our virtual tour here.
---
The CEDoW Christmas Story Art Exhibition is open to family, friends and the public until Wednesday 23 October, at the Wollongong Art Gallery (Corner Kembla and Burelli Streets, Wollongong) on Tuesdays - Fridays (10am-5pm) and weekends (12pm-4pm).
For more information on this year's exhibition read more here. For more information on the competition, visit the

CED

o

W Christmas Story Art site.